Meet Hahnbee! One of the Youngest Raw Dog Food Nutrition Specialists
Published on December 11, 2019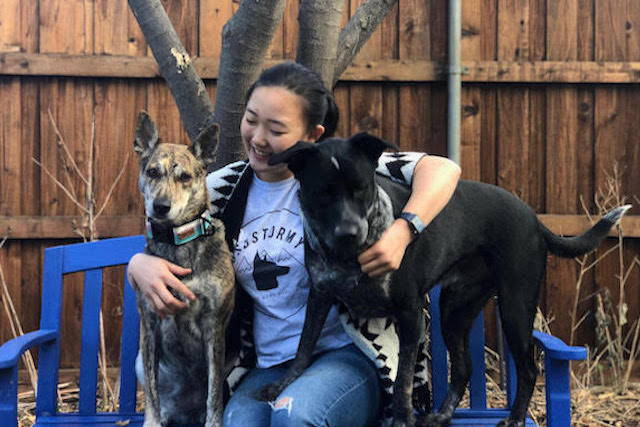 "When I pause to reflect on where I was then and where I am now, I feel a sense of joy and a sigh of relief that I found my true self. I am operating in the best version of myself with my ultimate best friend, Stormy (my dog), and wouldn't want it any other way. However, it was a hot mess and a half to get here, which makes me feel proud of how far we have come. I'm excited about where our journey will take us next as we continue to grow." --Hahnbee
AB: What drew you to rescue your dog?
Hahnbee and Stormy the dog.
Hahnbee: My name is Hahnbee Choi, and I am 16 years old. I am the youngest Raw Dog Food Nutrition Specialist certified by Dogs Naturally University (DNU). With my 5-year-old female German Shepherd/Blue Heeler mix, I have an Instagram and blog centered on raw feeding. One of my many goals is to spread knowledge and continue to learn everything and anything about balanced raw dog food. I hope I never come off as a "know-it-all" because all I do know is that I have so much more to learn about raw feeding, canine nutrition, and well … life itself!  
AB: What drew you to rescue your dog?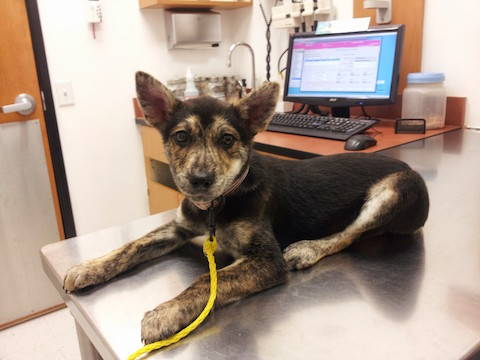 Hahnbee: To this day I still can't put my finger on what exactly it was that resonated with me when I met her. Maybe it was the way she melted into my lap, or perhaps her insane coloring, but most likely it was our immediate connection. Whatever it was, I knew in my heart that THIS was the dog I was taking home. And that was by far the best decision I have ever made.
AB: How did you become interested in the dietary and nutritional needs of dogs?
Hahnbee: When I first brought Stormy home, I didn't have a clue about nutrition. I tried feeding my Stormy a variety of commercial dog food brands for 3.5 years. I even fed her pasta and raw ground beef with mixed veggies for a week because she wasn't eating kibble. When she refused to eat her kibble or my homemade meals, I really started to question if this diet was the best for her. I fed her by hand and practically had to beg her to eat. I had discovered raw dog food bowls on Instagram before, but it never clicked in my mind that feeding fresh was best. It wasn't until I watched the documentary Pet Fooled that I realized how naive I was. I immediately switched over to raw feeding. And that was by far the second best decision I have ever made.
AB: How did you go about creating Stormy's raw food diet?
Hahnbee: I started Stormy on a pre-made raw product to simply get started. Then, I started to follow hundreds of raw feeding accounts on Instagram and researched it like crazy. I was hesitant to do a DIY diet because I felt overwhelmed by all of the new information. Determined to feed fresh food, I placed my fear aside. I gathered all the materials, ranging from turkey necks to lamb liver, and gave it my all. I remember during my first prep, at one point I got so overwhelmed calculating bone percentages that I almost lost it. It only lasted a nanosecond because I remembered my "Why" and marched on to complete what was to be my very first meal prep session.
At first it was like learning to walk all over again. I would get confused on variety or sourcing and fall down. Yet, I got back up and persevered. And soon enough, I was running, leaping, twirling, and then doing somersaults and cartwheels. I had just started my own raw Instagram to share with others what I was learning, and I am still learning and still sharing!
AB: If a dog parent is considering raw feeding, what suggestions would you have for them?
Hahnbee:
Research, research, and more research! Knowledge is power, and educating yourself is the first vital step to help drastically improve your best friend's life.
Doing the best you can. Adding any amount of whole fresh foods to bring life back into the bowl.
Striving for better every day! Keep learning and asking questions. It may seem scary at first, but it gets easier, I promise!
Some great website resources are: Dogs Naturally Magazine, Perfectly Rawsome, and Primal Pooch. And useful resources on Instagram include @gspquinn, @earth_vet, and @wildlyblended.
AB: What was Stormy's reaction to raw food?
Hahnbee: There was a point when I could see her pure joy when it came time to eat. The days of having to beg her to eat were gone. When I think about those days when she refused to eat, I really think it was her way of saying to me, "I do NOT want to eat this. This is not right for me. This is not biologically appropriate for me, and I HATE IT."
AB: Tell us how you obtained a Raw Dog Food Nutrition Specialist certification?

Hahnbee: I discovered DNU, an established organization that offers a Raw Dog Food Nutrition Specialist certification. I signed up for the course the day I found it.
The course consisted of several lessons, videos, quizzes, and a comprehensive exam at the end. I studied non-stop for days until I passed the exam on a school night at 1 a.m. I jumped with glee after I passed and was just excited that I had accomplished completing the course. At that time, I had no idea that I would be identified as the youngest person to pass the certification. When DNU confirmed that I was the youngest certified raw dog food nutritionist and posted it on their Facebook page, I was more inspired to continue to further my journey in raw feeding. So I decided to create a blog to educate even more people!
I want to help educate pet parents so they can make the best decisions for their dog. This year, I was lucky enough to attend the Raw & Natural Dog Summit 2019, hosted by Dogs Naturally, which helped align my views on several topics. I also met so many wonderful people with whom I am honored to be in the same industry.
AB: What are your plans for the future?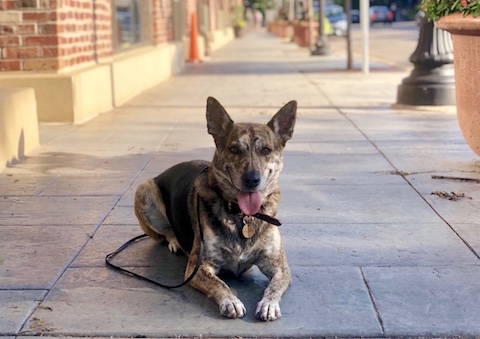 Hahnbee: Although I wish I had discovered raw feeding a whole lifetime sooner, I now use my past experience to connect with people on all sides of the nutrition spectrum. My future plans are to become an integrative veterinarian. I want to educate people about holistic pet care and raw feeding in an even larger capacity. I am boiling with fierce passion inside and am honored when people choose to come to me for raw feeding knowledge.  
My goal is to help others by sharing my own experiences (good and bad) and by being a dedicated advocate for a fresh whole food diet. I am eternally grateful to my dog Stormy for inspiring me to become who I am now, even with the countless mistakes I have made with her. I am so excited to continue this crazy journey called life with my ultimate best friend, spreading and soaking in everything we possibly can. Because without her, where would I be now?
AB: How can pet parents connect with you?
Hahnbee: The best place to connect with me is on Instagram: @gsdstormy and on my blog.
Many dogs benefit immensely from the nutrition available in fresh or raw food, however every dog is different. For some dogs a raw diet may not be the best option, especially if your dog has health issues. We encourage pet parents to talk with your veterinarian before changing your dog's food.
The views, information, or opinions expressed within this article are solely those of the individual involved and do not necessarily represent those of AnimalBiome.
If you liked this article, please consider sharing it.