Lessons from Katrina: How to Keep Pets Safe in a Hurricane

Published on August 29, 2019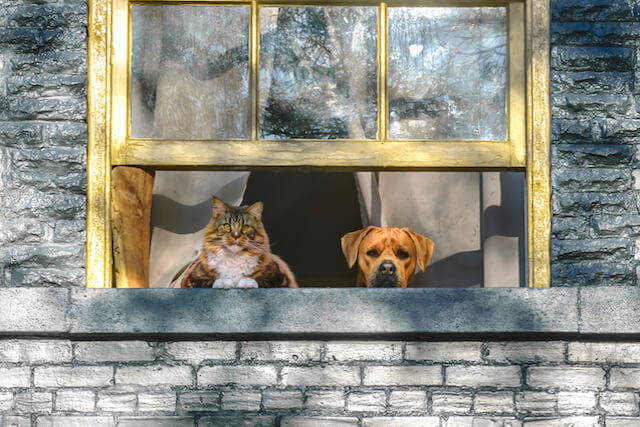 Hurricane Katrina struck the coasts of Louisiana and Florida on August 29, 2005, causing catastrophic damage as well as the deaths of 1,800 people and about 150,000 pets. But because of the public outcry over these losses, the storm also led to important initiatives to keep dogs and cats (as well as people) safer in future emergencies.
On the 14th anniversary of Katrina, we look back at how that storm changed the rules regarding pets in natural disasters, and we offer some tips for keeping your pets safe in case of a hurricane or other weather emergency.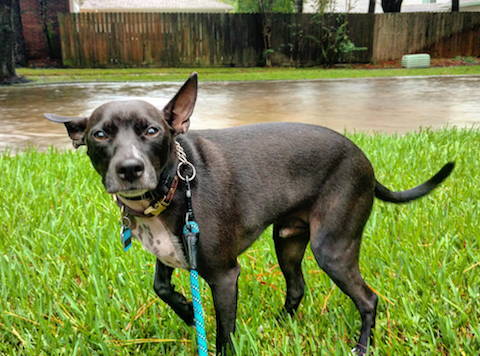 After Katrina, Pets Became People Under the Law

In Hurricane Katrina and the associated evacuation, an estimated 250,000 pets were separated from their people. When rescuers arrived to take stranded residents out of the flooded areas, by law they were not allowed to let evacuees take their dogs and cats with them. Almost half the people who chose to stay rather than be rescued did so because they wouldn't leave their pets behind, and many of those people died.
‍The next year, in response to public pressure, Congress passed the landmark Pets Evacuation and Transportation Standards (PETS) Act of 2006, which requires rescue agencies to save pets as well as humans during natural disasters.
Katrina marked a major turning point for animal rights under the U.S. legal system.
In a natural disaster, companion animals now have the same status as other members of the family. Pets have to be evacuated along with people, and human shelters have to accept pets or provide pet-friendly facilities nearby.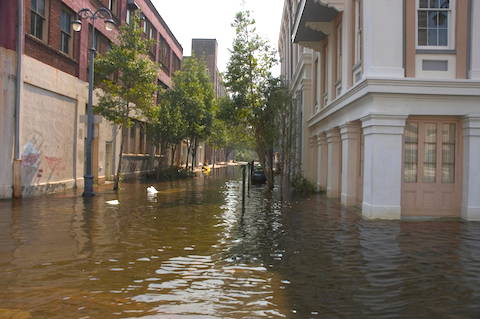 Downtown New Orleans Post Hurricane Katrina
The National Hurricane Center says conditions are favorable for above-normal activity during this year's peak hurricane season months, August through October. Here are some tips for keeping your pet safe in case of a hurricane or other weather emergency.
1. Make Sure Your Pet Is Microchipped

A microchip is a small radio frequency transponder (about the size of a grain of rice) that stores a unique ID number, which is associated with your pet's name and your contact information in a database. Microchipping has proved to be the best tool available for reuniting pets and their people if they ever get separated.
If your dog or cat isn't already microchipped, have your veterinarian or local shelter microchip them. Then register that microchip on the Michelson Found Animals national microchip registry website (it's free). The Michelson Found Animals Foundation was created in direct response to the experience of Hurricane Katrina in order "to help ensure that every lost pet can get home safely."  
‍Remember to keep your contact information updated in the registry. It's also a good idea to add a secondary contact to your pet's microchip registration.
Make sure all your pets wear collars and tags with up-to-date identification information. ID tags should include the pet's name, any urgent medical needs, your phone number, and your secondary contact's phone number.
2. Pack an Emergency Kit or "Go Bag" for Your Pet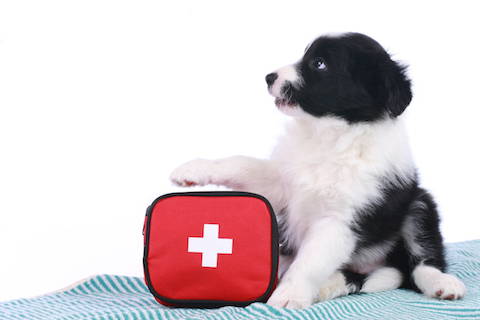 In addition to any emergency supplies you may pack for the human members of your household, prepare a separate emergency kit just for your pet. Seal all your pet's supplies and paperwork in waterproof containers.
Here are some items to include:
Food (at least a seven-day supply)
Water (at least a seven-day supply)
Medicines and medical records (get any prescriptions filled ahead of time)
Important documents (registration, vaccination records, etc.)
First-aid supplies (ask your veterinarian what to have on hand)
Collar or harness with ID and rabies tags, leash
Crate or carrier
Sanitation supplies (litter and litter box, newspapers, paper towels, trash bags)
A picture of you and your pet together
Treats, toys, bedding, and familiar items to help reduce stress for your pet
A record of your pet's microchip number and company
3. Put a Pet Alert Sticker Where Rescue Workers Will See It

A Pet Alert sticker or window decal will let rescue workers and others know there are animals in your home. You can order a free Pet Alert window decal online from the ASPCA, purchase one at a pet supply store, or create your own sign. Include the number and types of pets in your home, as well as the name and phone number of your veterinarian. Post your Pet Alert where it will be seen right away by rescue workers—on or near your front door, for example.
If you evacuate with your pets, write "EVACUATED" on the sticker or sign.
Do some research ahead of time to identify at least three hotels/motels along your evacuation route that accept pets. You can find pet-friendly hotels by searching PetsWelcome.com, GoPetFriendly.com, or BringFido. For pet-friendly rentals, search Airbnb.
‍It's also a good idea to choose a temporary caregiver outside your immediate area who is willing and able to house your pet. If you have more than one pet, you may want to have multiple friends or family members lined up to care for them separately.
‍Ask local animal shelters whether they provide emergency shelter or foster care for pets. You can also ask your veterinarian to recommend appropriate boarding facilities or kennels.
5. Make Sure Your Pet Is Carrier-Ready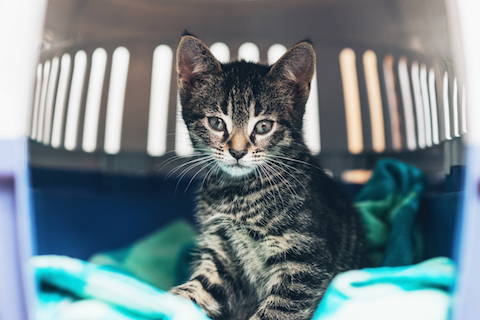 If your pet doesn't go easily into a carrier or crate, you may want to do some conditioning or training ahead of time. Treats or toys kept in the carrier can help your dog or cat associate it with positive experiences.
‍Make sure all carriers are clearly labeled with your pet's name, your full contact information, and your secondary contact person's name and phone number.
6. In Case of a Storm, Bring Pets Inside

Always bring pets indoors at the first sign or warning of a storm. In a weather emergency, animals may become disoriented and wander away from home.
7. Choose a Safe Location Indoors

Determine in advance which rooms offer safe shelter for you and your pet. Choose a location that's free of potential hazards such as windows and flying debris.
‍If you are unable to evacuate or need to wait for rescue, here's what you can do to protect your pets:
Bring your pets inside to a secure location with you. Do not leave them outside to fend for themselves. Do not tie or chain your pet outside.
In the event of flooding, go to the highest location in your home or to a room with counters or high shelves where your animals can take shelter.
Keep dogs on secure leashes; keep cats (and other small pets) in carriers.
Be sure each pet is wearing a secure collar with updated ID tags.
8. If Local Officials Recommend or Order an Evacuation, Evacuate

And take your pets with you! Leaving a pet behind will not only put the animal at risk but may also put rescue workers at risk. Thanks to the PETS Act, you have the right to bring your companion animals with you to safety.
Remember to take your pet's "go bag," and if you have time, make a note on your Pet Alert sticker to let rescue workers know that you and your pet have evacuated.
For more on how pet parents can be prepared for hurricanes and other disasters, see these online resources:
If you liked this article, please consider sharing it.